Mai's Current Wishlist
Hey everyone! Long time, no talk. Sorry about that. Things have been extremely hectic for both Dax and I - with her vacationing out of the country, and myself doing a bit of traveling as well - it's been crazy. I've been really disappointed in myself for kinda slacking off, but it felt nice to take a step back and spend time with family and friends and allow myself to breathe.
I wanted to also just briefly thank everyone for all of the constant love and support that we've gotten since the beginning. We recently hit 10k, which absolutely blew us away, and as of this morning, we're now at 12,000 followers. Absolutely mind boggling. Thank you, thank you, thank you. We can't believe it.
NOW, anyway, lol. Let's move onto today's post. I wanted to give a bit of an update on my current wishlist - which is always expanding. I love reading other people's posts on this topic. So here's my spin on it!
?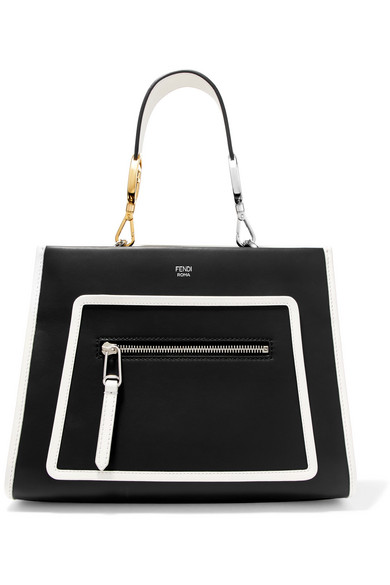 1. Fendi Runaway Small Leather Tote - I love the mixed metal hardware + the silhouette on this bag.
2. Fornasetti Mani Candle - Absolutely beautiful candle. Top notes of thyme and lavender, middle notes of orris (an all time fave scent of mine) and cedarwood, base notes of tolu balsam, incense, birch and labdanum.
3. Chanel Soleil Tan De Chanel Bronzer - A makeup product that I've had my eyes on for as long as I can remember. I'm not sure why I haven't taken the plunge yet. Every single review I've seen about this has been positive.
4. LV x Takashi Murakami LV Hands Jewelry Box Bag - A bag from the iconic LV x Murakami collaboration. This collection has since been discontinued and phased out of stores (official summer of 2015), so now finding this bag - or any from the collection - can be a bit of a task. Doesn't keep me from adding it to my wishlist, though!
5. Chanel Le Vernis Longwear Nail Color in #530 Rouge Radical - Another LE product from 2016, this polish is one that I discovered last year through Instagram. I immediately fell in love, and then my heart broke when I discovered it was LE. You can find this polish on Ebay and other resell sites, but I wish it were a permanent part of Chanel's polish lineup.
6. - Duh. Is anyone surprised? My most favorite Byredo scent. I've owned the hand cream for awhile now, after initially falling in love with the fragrance during a Barney's run a couple years ago. I haven't purchased the full sized perfume yet, but I can't wait to.
7. Chanel Trainers - This has basically turned into a Chanel wishlist on accident, oops. But I ADORE Chanel's trainers. I'm a bit of a sneaker fan, which I don't speak about often on our page (because, why would I, I guess?) and I love how these Chanel trainers look when styled correctly. They're chunky and make a statement, which I love. The pair shown are actually not my favorite style/colorway, but they had a transparent background, which I needed for the photoset to match lmao.
But yeah! I hope you all enjoyed this. It was really fun to put together.
I'll be back with a new post soon!
Until then!
-Mai @ THEGLOSSARRAY
@ma1morgan
?